What Should be the Ideal Credit Score to get a Home Loan?
02-Feb-2023 | Credit Score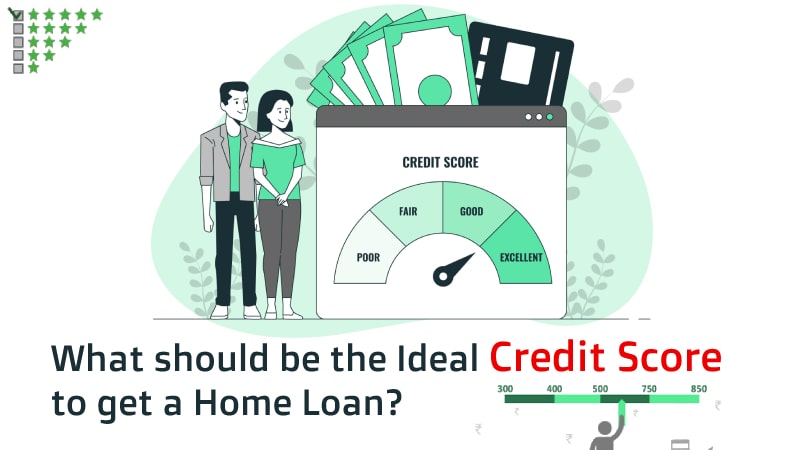 Home loans have become the most beneficial means for people who want to fulfill their dream of buying their own place where they can live with their loved ones, create memories, and have financial security for future generations. In the past few years, with the efforts of NBFCs and HFCs, even people coming from underserved and unserved regions are now realizing their dream of having their own house. Catering to the needs of these segments is a major step toward rural and semi-urban development. Aavas Financiers is one of those housing finance companies that top the chart in providing housing loans to customers belonging to low and middle-income segments. At the time people apply for a home loan, the lenders do check the credit score of the applicant as it is considered a mandatory step to be taken by all the financial institutions to know about the creditworthiness of the borrowers. Therefore, the applicants must be aware of the ideal credit score to get a home loan. However, before moving on that, first, understand what credit score means.
What is a Credit Score?
A credit score is a 3-digit number that depicts a borrower's credit behavior and creditworthiness depending upon factors like timely payment of bills, EMIs, and other monthly obligations. The financial institutions check a borrower's credit score to see how likely the person would repay the loan amount. However, this is not the sole factor that defines a person's repaying capacity but though the significant one. A credit score ranges between 300 to 900 and the more it is on the upper side, the higher are the chances of the applicant getting a home loan.
Now let's understand the credit score range and its implications:
Credit Score Range

Implications

Not Applicable (NA) /

No History (NH) / -1

It indicates a non-descriptive credit score where the score is unquantifiable.

300 – 549

In maximum cases, an application falling under this category hardly gets approval as the CS count is too low.

550 – 649

This marks the application under a murky and doubtful zone where questions are raised on the creditworthiness of the applicant as it shows that are some or other defaults in the credit report.

650 – 749

It shows a satisfactory score where it is possible to get approval on the loan application, combined with thorough verification of other aspects.

750 – 900

In this case, the probability of approval is very high as it shows a high level of creditworthiness of the applicant
To maintain an ideal credit score, it is also necessary to understand how the credit score is calculated or how credit score calculation is done, as it will help you in knowing which factor you must pay the highest attention to. So, let's understand calculation of credit score –
How credit score is calculated?
There are basically five factors that together build your credit score. These factors include your repayment history, which accounts for the highest percentage i.e. 35 percent. It is followed by the total amount you owe to financial institutions and this stands for 30 percent. The third major aspect is the total tenure for which you need to pay to the existing lenders and this accounts for 15 percent. The next one is the total number of loans you have applied for or taken and it holds 10 percent of the credit score. The last one is credit mix, which affects your credit score by 10 percent.
Minimum CIBIL Score for Home Loan
Eligibility or approval in the case of home loans is not solely dependent upon the credit history but also upon the repaying capacity of the borrower. Usually, financial institutions demand a credit score of at least 650 and above. If the credit score is 750 or above then it shows a healthy credit history and thus results in high chances of approval with lower interest rates. A good credit score is necessary for a home loan as it gives an assurance to the lenders that you have no record of default payments. You need to have an ideal credit score so that your loan application can be approved quickly and without any hassle.
To have a good credit score, you need to maintain a score of 750 or above, as the chances for the approval of your loan application increase with such a good credit score. Therefore, you must take care of these factors by keeping no-default repayment history, a lesser amount of existing loans, a lower tenure period, less number of loans, and a correct credit mix. As this will help you in maintaining an ideal credit score.
It might happen that your credit score is zero or -1 (New to Credit), but it does not mean that you cannot get a home loan. To know how you can get a home loan in case of an unquantifiable credit score, keep scrolling.
Can you get a home loan with a zero credit score?
Having an unquantifiable or zero credit score is comparatively considered a better situation than a poor or low credit score. Lenders or financial institutions usually reject loan applications with a bad credit score as it shows a defaulting credit history. However, in case of zero or NIL credit score, many lenders provide loans to these applicants based on their monthly income and certain other factors. Hence, financial institutions look for other aspects for the fulfillment of your repayment burden despite your unquantifiable credit score and consider the loan application.
Summing Up,
A credit score possesses huge significance when it comes to a home loan or any other loan and thus borrowers should try to keep their credit score as high as possible. There are even many articles on how to improve credit score that you can read to enhance your chances for the approval of your loan application.
Comments: