What is Credit Score and How to Improve credit score?
16-Nov-2022 | Credit Score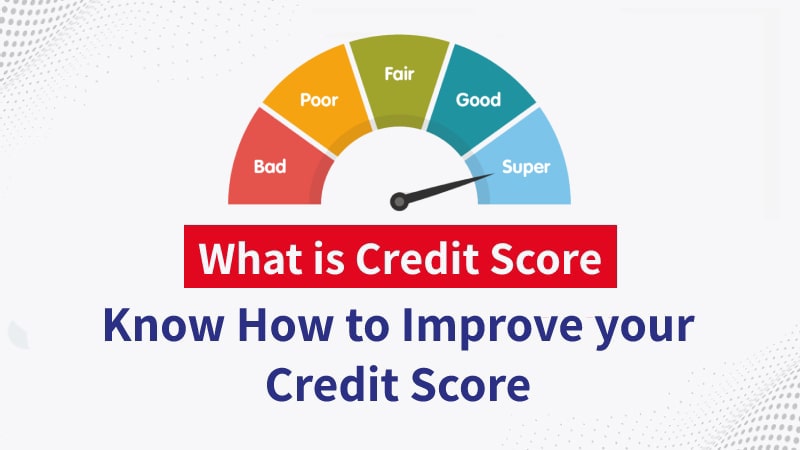 A person's credit score reflects his financial health. It helps the lender to know how well you can manage your credit responsibility. The higher the credit score is, the easier it becomes for you to get approval for the loan request. When your CIBIL or CRIF score is high, financial institutions may also be ready to give you easy and quick loans. Also, you may avail loans at competitive interest rates.

Now let us first get a brief understanding of what a credit score is:
A credit score depicts the creditworthiness of a person i.e., how eligible they are to avail a loan. It is presented in a number form ranging from a scale of 300 to 900. It is calculated based on a person's credit history, repayment history, credit card usage, and various other factors. If you hold a good credit score, then you are a potential customer for the lenders. While banks, HFCs, and NBFCs work on risk analysis, it is one of the most significant steps conducted before granting a loan.
When financial institutions perform a credit score check, then all of us want to have a good credit score to get competitive interest rates and maximum loan amount. However, it is not easy to improve CIBIL score overnight. The first step you need to take is to understand the reasons behind your low credit score. Once you come to know what things are hitting your credit score, it becomes a little easy; as you know which specific points, you need to work upon.
For the last so many years, various companies provide free credit score check services. People can check credit score online by using their PAN cards and can get to know whether they meet the eligibility criteria for availing a home loan or not.
Below are some of the ways by which you can improve your credit score. Let's have a look:
Clear Dues on Time
At any time, if you have some additional funds then you must clear the credit balance. When you pay your revolving debt before the actual billing or repayment date, then it helps to increase your credit score. How fast the credit score boosts depends upon how quickly the customer gets to know about the outstanding paid balance amount on their cards. Usually, the statement balance is reported to the credit bureaus on monthly basis. Overall, it is totally in the hands of the issuer when they report it. Even you can make multiple payments throughout the month against the balance. This can play a major role in improvising your credit score.
Keep your Credit Utilization Low
Another way to improve your credit score is to limit or decrease your credit utilization. It can be done either by getting a new credit card or by increasing the limit of your existing card. The more the credit card limit would be, the lesser would be your credit utilization. However, make sure that before you increase your credit limit, you must limit your spending too.
Checking the Credit Reports
To increase your credit score before you apply for home loan, we recommend you to check and analyze your credit report. Many times, various errors are present in your credit report. If in case, these errors are being disputed and removed, then it can surely increase your credit score. Some common errors that reflect in a maximum of the credit reports include misreported payments, duplicated accounts, and fraudulent accounts. If the loan applicants take some time to review their credit reports, then they are likely to identify certain errors and thus can raise a dispute to remove them.
Pay EMIs on Time
If you wish to improve your credit score, then one thing that can make a noticeable difference is your regular and on-time payment of the EMIs. When people look for how to improve credit score, this is one of the most common and beneficial ways that can surely bring a change in the scores. If you plan to take a loan for home appliances or vehicles, make sure that you do not miss paying any of your EMI as it will help keep your creditworthiness intact.

Summing up,
Many times a question might have come to your mind why do you need a good credit score? The answer is simple i.e., the better your credit score is, the maximum are the chances of your loan being approved. Before you file a loan application, you should go for a credit score check free online. You only need to follow a few steps to check the score. If you get credit scores of 750 or above, then it is considered a very good score. But in case the score is less than 600 then it is necessary to practice the above-suggested ways that can help you to improve credit score.
Comments: