What documents are required to apply for a Home Construction Loan?
04-Jul-2023 | Home Construction Loan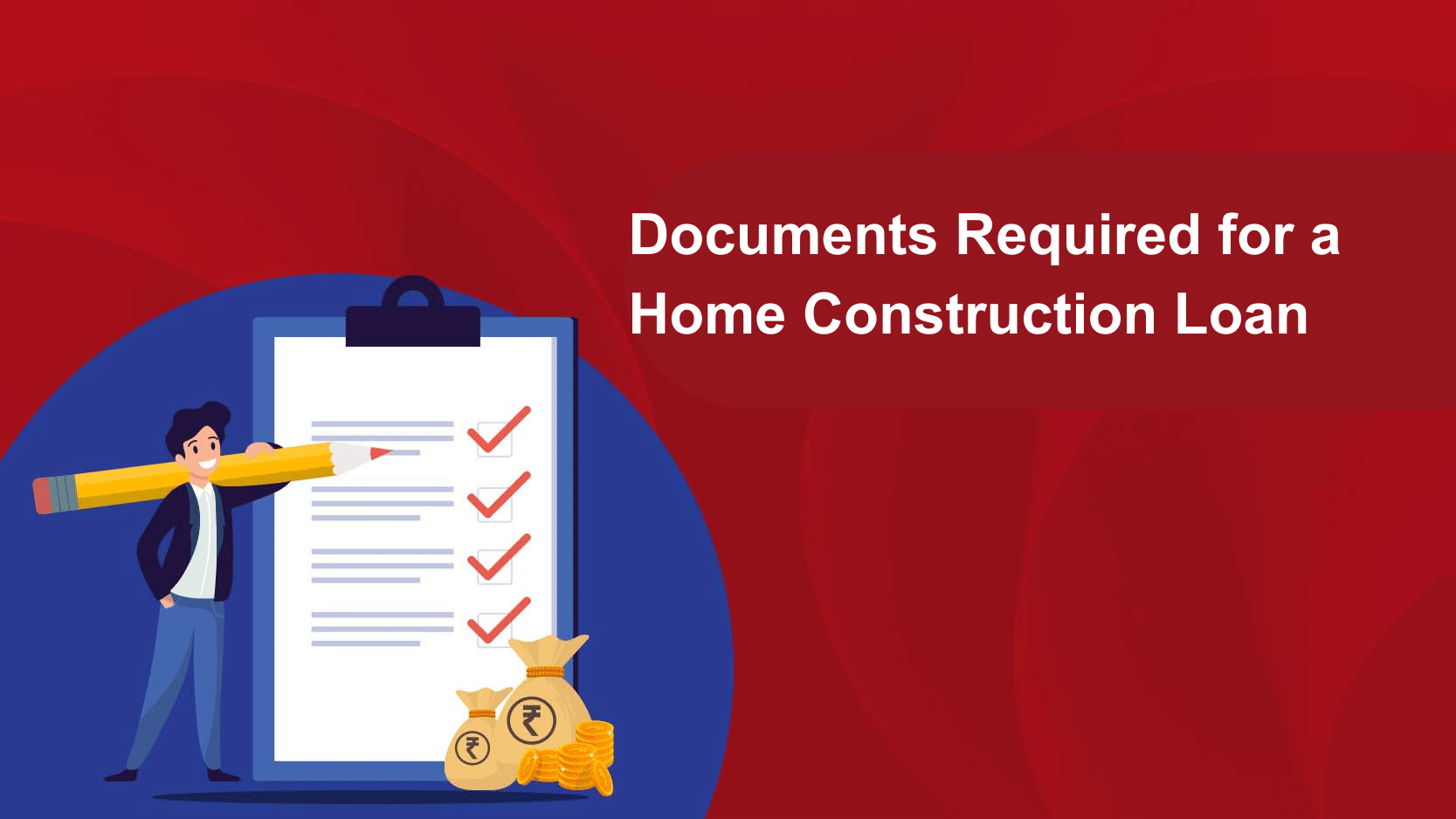 We all envision our dream home, meticulously planning its appearance, size, and purpose. However, amidst these considerations, the pivotal aspect lies in securing the necessary capital for construction and furnishing. Home construction loans offered by various financial institutions i.e. Banks, HFCs, and NBFCs play a vital role in turning these dreams into reality, serving as a bridge between imagination and a place we can call our own for residential bliss.
Home Construction Loan

A home construction loan is a type of financing that provides funds specifically for the construction of a residential property. Unlike a home loan, which is used for purchasing an existing home, a home construction loan is designed to cover the costs associated with and constructing a new home.
The loan is typically disbursed in stages or "draws" based on the progress of the construction project. These stages may include the purchase of land, site preparation, foundation construction, framing, and completion of various phases until the final completion of the home. As each stage is completed, there release funds to cover the expenses incurred.
Home Construction Loan Vs Home Loan

When it comes to a home construction loan versus a home loan, there are several key differences to consider.
Purpose: A home construction loan is specifically designed to finance the construction of a new home. It covers costs such as land acquisition, labor, and materials. On the other hand, a home loan is used to purchase an already built home or an existing property.


Documentation and Approval Process: For a home construction loan, you will typically need to provide detailed information about your construction plans, permits, and a breakdown of the expected costs. The approval process takes into account factors like your credit history, income proof, and debt-to-income ratio. in contrast, a home loan primarily requires income proof, debt-to-equity ratio, and other mandatory documents.


Disbursement of Funds: With a home construction loan, the funds are typically disbursed in stages or "draws" as the construction progresses. There is the inspection of the construction site and verification that the work has been completed before releasing each draw of funds. In a home loan, the entire loan amount is usually disbursed at the time of purchase.


Repayment Terms: During the construction phase of a home construction loan, you may only be required to make interest payments on the funds that have been disbursed. Once the construction is complete, the loan will typically convert into a Home with regular principal and interest payments. In a home loan, you begin making full principal and interest payments immediately.
Features of Home Construction Loan

Interest Rate: The interest rate for a home construction loan can vary depending on factors such as market conditions, government policies, and creditworthiness.


Loan-to-Value Ratio: The loan-to-value (LTV) ratio in a home construction loan simply shows how much of the loan is provided compared to the total value of the mortgage. The LTV ratio is considered to determine the maximum amount of loan that can be given against the property.


Loan Tenure: The loan tenure refers to the duration or time period given to the borrower to repay the borrowed amount. It is the length of time that the borrower has to make regular payments towards the loan until it is fully repaid.


Eligibility Criteria for Availing Home Construction Loan: To qualify for a home construction loan, borrowers must fulfill certain eligibility criteria. These criteria may vary but typically include factors such as income proof, credit score, debt-to-income ratio, and documentation related to the construction plans and cost breakdown.


Credit Score: A credit score is a numerical representation of an individual's credit history and creditworthiness. Financial institutions, HFCs, banks, and non-banking financial companies (NBFCs) use credit scores to assess a borrower's loan repayment capacity. A higher credit score indicates lower lending risk and favors the borrower by potentially securing a loan at a competitive interest rate. Credit scores are calculated based on credit reports, which include data on an individual's credit history, payment patterns, outstanding debts, and other relevant information. Credit scores typically range from 300 to 900, with higher scores indicating better creditworthiness.
It's important to note that these features may vary depending on the region and prevailing regulations.
Documents Required for Home Construction Loan
Documents required for a home construction loan can vary depending on the policies, loan amount, loan tenure, and the borrower's profile (employment). While some documents are generally required, specific documents may be needed based on factors such as employment type, property type, and construction details.
Here are some of the mandatory or basic documents typically required for a home construction loan:
Age Proof: Documents such as a birth certificate, school leaving certificate, or driving license may be required to establish your age.
PAN Card: The Permanent Account Number (PAN) card is a mandatory document for financial transactions and income tax purposes.
Address Proof: Documents such as utility bills, property tax receipts, or any other valid proof of address may be required to verify your residence.
Bank Statements: Recent bank statements are generally required to evaluate your financial stability and transaction history.
Property Registration Documents: Documents related to the ownership and registration of the property, such as sale deed or title documents, may be required.
Existing Loan Details: If you have any existing loans, you may need to provide loan account statements and details of those loans.
Photo Identity Proof: Documents such as a passport, Aadhar card, voter ID, driving license, or PAN card are commonly accepted as photo identity proofs.
Passport-Size Photographs: Typically, a few passport-size photographs are required for official documentation.
Property-Related Documents: Additional property-related documents may include land ownership documents, approved construction plans, building permits, and NOC (No Objection Certificate) from relevant authorities.
Duly Filled Loan Application Form: Completing the home construction loan application form is a necessary step to initiate the loan process.
It's important to note that this is not an exhaustive list, and the specific documents required may vary. To ensure accuracy, it is recommended to consult with the financial institution directly to obtain a comprehensive list of the documents needed for a home construction loan.
Documents Required For Self-Employed Individuals
For self-employed individuals, the document requirements for a home construction loan may differ from those of salaried individuals due to the nature of their working profile. Here are some documents typically required from self-employed individuals:
Business Proof: Provide legal documents related to your business, which may include:


Business registration documents

• Memorandum of Association (MOA) and Articles of Association (AOA) for companies

• Partnership deed for partnerships

• Business incorporation certificate, if applicable




Business Address Proof: Documents that establish the address where your business operations take place, such as:

• Electricity bills in the name of the business

• Lease agreement or property ownership documents

Financial Documents:

Income Tax Return (ITR): Submit the last three years' ITRs, including income statements, profit and loss statements, and balance sheets. These documents provide a snapshot of your business's financial status and income stability.
Goods and Services Tax (GST) Proof: If applicable, provide your GST registration details.
Bank Statements: Submit bank statements for the past six months to demonstrate your transaction history and assess your creditworthiness.

4. Business Profile on Letterhead: Prepare a business profile on your company's letterhead, providing an overview of your business, its activities, and other relevant details.
It's important to note that these document requirements may vary depending on the specific circumstances of your business. It is advisable to consult with the financial institution directly to obtain a comprehensive and accurate list of documents required for a home construction loan as a self-employed individual.
Documents Required For Salaried Individuals

For salaried individuals, the document requirements for a home construction loan typically include the following:
1. Income Proof:
• Photocopies of the last six months' bank statements from your salary account to demonstrate your income and transaction history.
• Salary slips or pay slips for the past three months, indicating your salary details.
2. Employment Proof:
• Appointment letter or joining letter from your organization, validating your employment.
• Yearly increment letters, if applicable, showcasing any salary increases.
3. Form 16:
• Certified true copies of Form 16, which is a statement issued by your employer reflecting your income and tax deductions for a particular financial year.
It's important to note that these are general document requirements for salaried individuals applying for a home construction loan. Additional documents may be requested based on the policies and specific circumstances. It is advisable to consult with the financial institution directly to obtain an accurate and comprehensive list of documents required for a home construction loan as a salaried individual.
Things to Keep in Mind While Applying for Home Construction Loan

When applying for a home construction loan, it's important to consider various factors beyond documentation and eligibility criteria. Here are a couple of additional points to keep in mind:
1. Creditworthiness: Financial institutions assess your creditworthiness by evaluating your credit score. A good credit score increases your chances of loan approval. Before applying for a home construction loan, it's advisable to check your credit score and take steps to improve it if necessary. Clear any outstanding debts, maintain a good payment history, and ensure a healthy credit profile.
2. Understand the Disbursement Process: Take the time to thoroughly understand the disbursement process of the loan. Familiarize yourself with how funds are released at different stages of the construction process. Stay informed about the progress of construction and communicate with the financial institution to ensure timely disbursement of loan funds. This will help you manage the financial aspects of your construction project effectively.
By paying attention to these factors, you can enhance your chances of securing a home construction loan and successfully navigate the loan process. Remember to stay informed, ask questions, and seek professional advice as needed to make informed decisions throughout the loan application and construction process.
Tax Benefit on Home Construction Loan
The tax benefits available in the case of Construction loan is similar to a home loan. However, in the case of a construction loan, the benefit of interest paid during the construction period is available to the borrower in 5 equal installments from the year of completion of such property.
In conclusion, a home construction loan is a valuable financial option when embarking on the journey of constructing your dream home. It not only provides the necessary credit to build our home but also offers potential savings through various tax benefits.

However, it is crucial to have a clear understanding of our eligibility, affordability, loan-to-value ratio, and the terms and conditions associated with the loan before applying. Gathering all the required documentation and ensuring that you meet the eligibility criteria are important steps in the loan application process.
It's worth noting that there is typically required a minimum CIBIL score of 650 for loan approval. Therefore, maintaining a good payment history is essential in order to meet this requirement.
With careful planning, thorough research, you can transform your home construction dream into a reality.
Comments: