MSME Loans for Women Entrepreneurs
12-Sep-2023 | MSME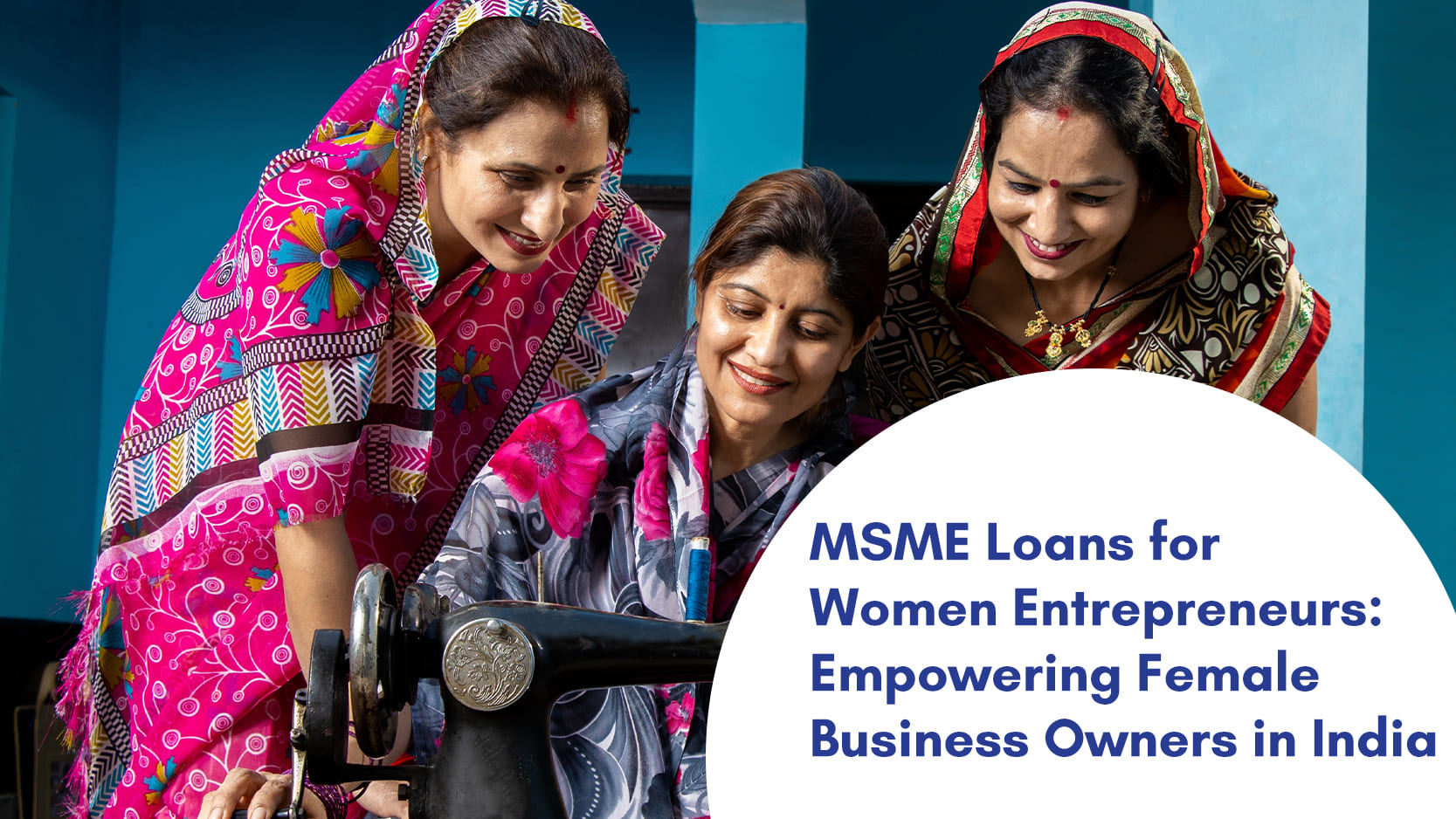 India's economic landscape has undergone a significant transformation over the years, with a surge in the number of women entering the entrepreneurial sphere. Women entrepreneurs are making their mark in diverse sectors, ranging from technology and finance to agriculture and retail. However, access to capital remains a significant hurdle for many business owners.

In this blog, we will delve into the world of MSME (Micro, Small, and Medium Enterprises) loans for women entrepreneurs in India, exploring the challenges they face, the opportunities available, and the impact these loans have on women-led businesses.

The Rise of Women Entrepreneurs in India
India has witnessed a steady rise in the number of women entrepreneurs. According to a report by the Sixth Economic Census, conducted in 2013-2014, women accounted for 13.76% of the total entrepreneurs in the country. This figure has likely increased over the years, reflecting the growing trend of women venturing into the business world.

Despite this promising trend, women-owned businesses continue to face unique challenges. One of the most significant barriers is the lack of access to finance. This is where MSME loans come into play, as they offer a lifeline to many aspiring and existing women entrepreneurs.

MSME Loans: A Catalyst for Women Entrepreneurs
Micro, Small, and Medium Enterprises (MSMEs) play a vital role in India's economy, contributing significantly to employment generation and GDP growth. Recognizing the importance of this sector, the Indian government has introduced various schemes and initiatives to promote entrepreneurship, with a particular focus on women-owned businesses.

Here are some of the key benefits of MSME loans for women entrepreneurs:

Financial Inclusion: MSME loans are instrumental in bringing women into the financial mainstream. By providing access to formal credit, these loans empower women to invest in their businesses, expand their operations, and contribute to economic growth.


Skill Enhancement: Many MSME loan programs offer training and skill development opportunities, enabling women to enhance their business acumen and management skills. This not only benefits their enterprises but also boosts their confidence and leadership abilities.


Competitiveness: Access to capital allows women entrepreneurs to compete on a level playing field with their male counterparts. It enables them to modernize their businesses, adopt technology, and scale up their operations.

Statistics on Women Taking MSME Loans in India
To understand the impact of MSME loans on women entrepreneurs, let's delve into some relevant statistics:


Rise in Loan Applications: According to data from the Ministry of Micro, Small, and Medium Enterprises, there has been a substantial increase in the number of loan applications from women-led MSMEs. In the fiscal year 2020-21, women entrepreneurs accounted for approximately 20% of all MSME loan applicants.


Loan Disbursement: The disbursement of MSME loans to women-led businesses has also seen significant growth. In the same fiscal year, these loans accounted for over 15% of the total loans disbursed under various government schemes.


Geographical Distribution: The surge in women entrepreneurs and their access to MSME loans is not limited to urban areas. Rural and semi-urban regions have also witnessed a notable increase in women-owned micro and small enterprises, supported by accessible credit.
Impact and Success Stories
The impact of MSME loans on women-led businesses in India is palpable. These loans have contributed to the growth and success of numerous enterprises across the country. Let's explore a few success stories that highlight the transformative power of MSME loans for women entrepreneurs:

Kiran Mazumdar-Shaw (Biocon): Kiran Mazumdar-Shaw is a prominent example of a successful woman entrepreneur in India. She started Biocon in 1978 with just Rs. 10,000. Access to finance played a crucial role in scaling up her biotechnology company into a global powerhouse.


Rashmi Daga (FreshMenu): Rashmi Daga founded FreshMenu, a food delivery startup, which became a household name in India. MSME loans allowed her to expand her kitchen operations and reach a wider customer base.


Chayaa Nanjappa (Coorg Organic Products): Chayaa Nanjappa is a rural woman entrepreneur who runs Coorg Organic Products, a successful enterprise in Karnataka. MSME loans enabled her to invest in organic farming and processing units, boosting her business.


How MSME Loans Can Empower Women Entrepreneurs
MSME loans play a pivotal role in empowering women entrepreneurs in several ways, providing them with the necessary financial support to overcome obstacles and achieve their business goals:


Business Expansion: MSME loans enable women entrepreneurs to expand their businesses by investing in new equipment, hiring skilled personnel, or opening additional branches or outlets. This expansion contributes to increased revenue and job creation.


Working Capital: Maintaining a steady cash flow is critical for the day-to-day operations of any business. MSME loans provide working capital, helping women entrepreneurs manage operational expenses, purchase raw materials, and meet short-term financial obligations.


Technology Adoption: In today's digital age, technology adoption is essential for business competitiveness. MSME loans allow women entrepreneurs to invest in modern technology, such as upgrading their online presence, implementing efficient inventory management systems, and utilizing digital strategies.


Skill Development: Many MSME loan programs offer training and skill development opportunities alongside financial support. These programs help women entrepreneurs enhance their managerial skills, financial literacy, and marketing knowledge, making them more effective business leaders.


Market Penetration: MSME loans enable women entrepreneurs to explore new markets and diversify their product or service offerings. This increased market penetration can lead to higher sales and revenue growth.


Women's Economic Empowerment: By providing women with access to finance, MSME loans contribute to their economic empowerment. Financial independence boosts self-esteem and decision-making power, not only in business but also in personal life.

HFCs like Aavas Financiers: Supporting Women Entrepreneurs
Housing Finance Companies (HFCs) like Aavas Financiers recognize the importance of women entrepreneurs and offer specific MSME loan products tailored to their needs. Here are some benefits of availing MSME loans from Aavas Financiers:

Easy Loans: We offer MSME loans to women entrepreneurs. These loans comprise competitive interest rates, flexible repayment options, and many other advantages based on several factors, making them more accessible and attractive for women-led businesses.


Personalized Assistance: Aavas provides personalized assistance throughout the loan application process. We understand the unique challenges faced by women entrepreneurs and offer guidance to help them navigate the paperwork and meet the eligibility criteria.


Quick Disbursement: Aavas often prioritizes quick loan disbursement, ensuring that women entrepreneurs receive the necessary funds promptly. This is particularly crucial for addressing time-sensitive business needs.


Financial Inclusion: Aavas contributes to women's financial inclusion by offering MSME loans to those without a prior credit history or collateral. This approach opens up opportunities for aspiring entrepreneurs who might otherwise struggle to secure traditional bank loans.


Flexible Loan Amounts: Aavas Financiers offer flexibility in loan amounts, allowing women entrepreneurs to choose the financing that best suits their business requirements, whether it is a small startup or a larger expansion project.


Capacity Building: Aavas goes beyond just providing loans and offers capacity-building programs and workshops for women entrepreneurs. These initiatives focus on skill development, financial literacy, and business acumen, empowering women to manage their enterprises effectively.
Conclusion
MSME loans for women entrepreneurs are a catalyst for economic growth and gender equality in India. The statistics show a positive trend in the number of women accessing these loans, and success stories demonstrate the transformative impact on women-led businesses.
To further empower female business owners, it is essential to ensure that access to finance is not a barrier to their entrepreneurial aspirations. With the support of Housing Finance Companies, women-led businesses can access the financial resources they need to grow, innovate, and thrive. As more women entrepreneurs continue to make their mark in various sectors, the collaboration between government initiatives and financial institutions will be instrumental in fostering a more inclusive and dynamic entrepreneurial ecosystem in India.

Comments: