Know the Process of Udyam Registration & Benefits for MSMEs
24-Sep-2021 | MSME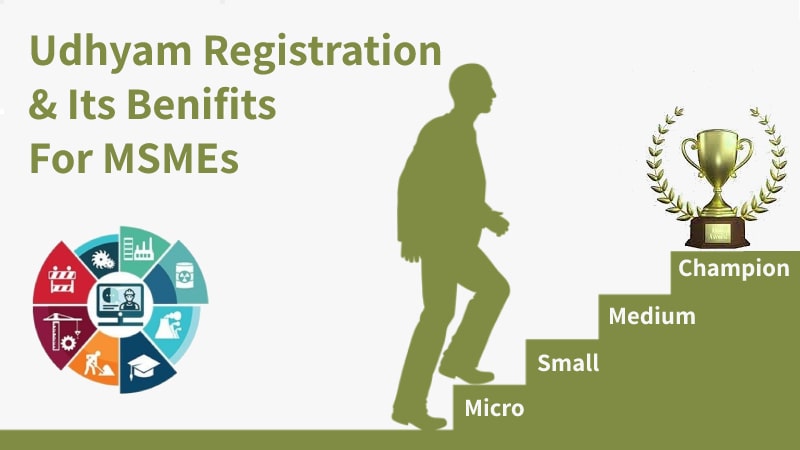 Know the Process of Udyam Registration & Benefits for MSMEs
Udyam Registration is the process of MSME or UDYOG AADHAAR Registration launched by the Ministry of Micro, Small and Medium Enterprises on July 1, 2020. The Ministry of MSME Udyam portal is a self-declaration and a free of cost platform for entrepreneurs/owners to get their enterprises registered. The Udyam portal is integrated with the Income Tax and GSTIN systems and automatically pulls PAN and GST-linked investment details.

An enterprise has been categorized as a micro, small and medium enterprise based on the their investment and turnover amounts:
| | | |
| --- | --- | --- |
| Type | Investment | Turnover |
| Micro Enterprise | Investment Amount ≤1 Crores | ≤5 Crores |
| Small Enterprise | Investment Amount ≤10 Crores | ≤50 Crores |
| Medium Enterprise | Investment Amount ≤50 Crores | ≤250 Crores |
Online Registration Process under Udyam Registration:
The MSME Udyam portal registration is a simple and one-time process and can be done only through the Udyam portal. The details required for registration under the Act are as follows:
No documentation or proof is required to be uploaded for an MSME registration.

An Aadhar Number & PAN no. is a mandatory for Udyam registration.

Your PAN & GST information will automatically fetched from the relevant Govt. authorities.

The system is completely integrated with IT and GSTIN systems.

PAN and GST is must for Udyam Registration with effect from 01.04.2021

If you have EM-II or UAM registration or any other registration under the Ministry of MSME will have to register again.

No enterprise can apply for more than one Udyam Registration.
Benefits of Udyam Registration for MSME:
Easier sanction of Loans from Financial institutions or Banks under "Priority Sector Lending".

Get the additional edge in Government tenders - From time to time government announces tenders where registered MSMEs can exclusively apply.

Benefits from Central, State Government and Ministry of MSME like Emergency Credit Line Guarantee Scheme or resolution frameworks: recently launched by Ministry of Finance to support MSMEs in the distress caused by Covid-19.

Ease of obtaining relevant registrations, licenses and approvals.
Comments: