How to Fuel Your MSME Business with Loan against Property?
21-Nov-2022 | Loan Against Property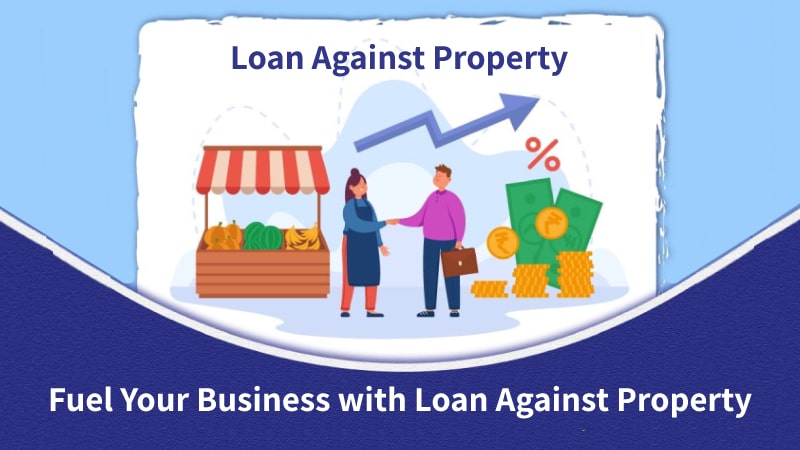 As an entrepreneur, you must scale your business to be able to reach new heights of success. When you need an additional amount of capital to meet your MSME business requirements, you can consider our Loan against Property, a feature-packed loan that gives you instant access to funds without having to indulge in complicated procedures.
Our Loan against Property is a simple and convenient option for those who want to put their assets to productive use by mortgaging them with us. If you are looking to expand your business, our secured loan helps you welcome new opportunities to finance your expenses.
Unlock the Power of Your Property
Depending on the business and property, we can offer a high sanction at attractive interest rates and cost-effective terms so that you can meet your MSME business growth expenses with ease. Whether you want to hire skilled staff or want to get the latest model of machinery in your manufacturing unit, our quick sanction lets you cover the expenses without any worry. Now, you do not need to compromise with the working capital or find other sources of funding to bring your project alive.
·
Business Expansions
Every MSME business wants to expand at some point or the other. However, business expansion often demands huge amounts of funds to finance different phases of growth. If you are planning to start a new branch, you will need to spend on multiple stages like getting a workspace, buying new equipment, and hiring adequate staff.
After this stage, you will need to get raw materials before you can start operations at the new unit. Each step of the growth plan will need adequate funds to let your business expansion ideas come into reality. This is facilitated by our loan against property that provides with you the required amount to fund these stages and manage the cash flow.
·
Long-Term Working Capital
MSME businesses might face a shortage of funds to meet the daily expenses of the operations. Our Loan against Property funds these businesses with long-term working capital to start paying their regular expenses like rent, utilities, salaries, etc.
This is quite beneficial for small to medium-sized businesses that don't yet generate stable revenue all through the year and need liquidity to operate smoothly. This type of loan is also useful for seasonal businesses that earn mostly during peak seasons and need funds to keep their operations running at other times.
This secured loan helps you stay prepared for unexpected expenses without affecting business growth. It can introduce additional cash flow to your business, which you could use for expenses as well as growth. Many times, MSME businesses face a lack of funds that hamper their growth; long-term working capital allows them to grab business opportunities to flourish.
·
Purchase of Machineries & Equipment
Procurement of equipment for your MSME business can create a huge demand for funds. As a business owner, you might not have adequate capital to purchase the latest equipment to meet the business needs. A loan against a property makes it easy to get the new equipment and machinery to fuel the MSME business operations.
At some point in time, you might need to purchase expensive equipment and tools. Existing businesses would always need to upgrade their equipment and get the latest models of machinery and tools to stay updated. This secured and easy loan funds these purchases so that you can always stay on top of the competition with the latest equipment and technology.
Benefits of Loan against Property
Our loan against property is made extremely easy to avail with simple processing, quick approval, and flexible repayment options. This secured loan gives you higher amounts at competitive interest with extended tenure.
·
Flexible Tenure
What makes Loan against Property the best solution for MSME businesses is the flexible tenure options they provide. You can choose to repay the loan amount over a long tenure of up to 15 years. If your finances are strong, you can close the loan early and save on the interest. Long repayment term means you can fund your projects without worrying about the EMIs as they can be kept small.
·
Easy Repayment in Monthly EMI
A loan against property is an easy and hassle-free way of funding your MSME business. It is not only easy to avail but is quite cost-effective as well. You can repay the loan easily in the form of monthly EMIs. The EMIs can be customized to suit your income because the repayment period is long. When you use the loan for business growth, you can easily repay the amount every month from the additional revenue the business generates.
·
Tax Benefits
Not only do you get cash to meet the business expenses, but you can also enjoy some tax benefits on the loan. You can benefit from tax deductions on the interest you pay and save on your income tax.
Loan against Property Eligibility
Getting a loan against property is easy because our eligibility terms are simple. Your loan eligibility does not only depend on your income. If your business is in the early stage of development, it is a great idea to acquire a loan on a property. You just need to make sure your property is free from any litigation. Once you have checked the eligibility criteria for loan against property, you can now apply for the loan.
Loans against property can be availed by MSME business types like:
● Sole proprietorship
● Private and public limited companies
● Partnership firms
● Self-employed professionals
Documents required for applying for a loan against property
● Identity Proof (Aadhar Card, Voter ID, Passport, etc.)
● Address Proof (Aadhar Card, Voter ID, Passport, etc.)
● MSME UDYAM Registration Certificate
● Proof of Income
1. IT Returns and/or Financial Statements of the last 3 years and/or
2. Informal Income Documents
● Other Documents
1. Signed Application Form With Picture
2. Cheque For Processing Fee
3. Proof of business existence
● Property Ownership documents
1. Title Deeds of the Property
2. Proof of No Encumbrances on the property
You just need to meet simple eligibility terms and submit minimal documentation to support your application and fasten your approval. Additional documents can also be required for specific MSME businesses and properties.
So, what are you waiting for? Apply today for the loan against property and get easy capital to accelerate your MSME business! Cater to your finance needs and introduce cash flow in your operations to make the most out of your venture. When you need to make quick business decisions or grab opportunities, having quick access to funding is all you need. Our loan against property is easy to avail and gives your MSME business a chance to grow without boundaries.
Comments: