How Construction Loan is different From Home Loan
21-Jun-2023 | Home Construction Loan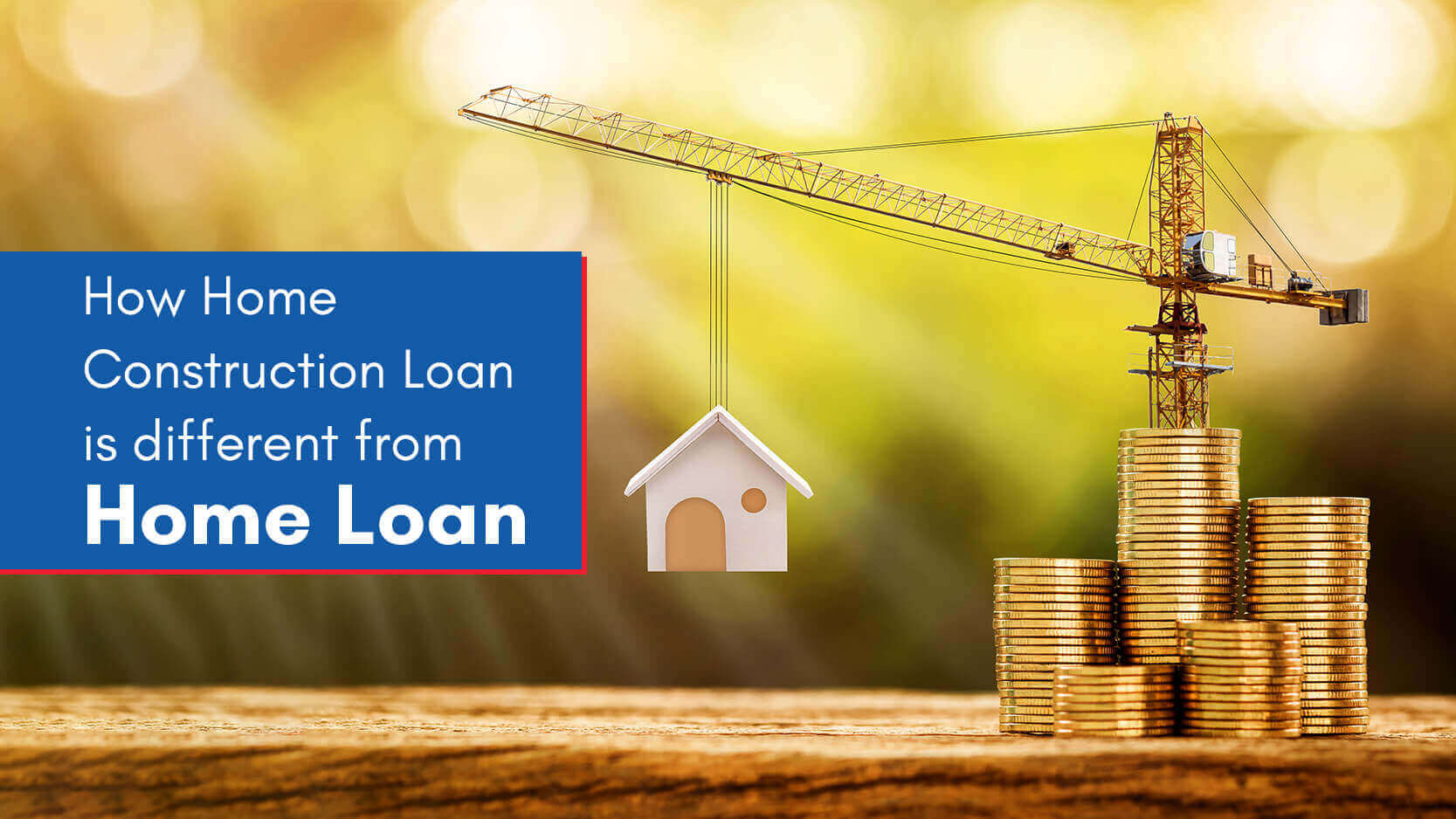 In India, every family shares a common aspiration—to reside in their ideal abode. Nonetheless, the soaring costs of real estate make it exceedingly challenging for individuals to afford a residential property solely through their own means.
To assist people in achieving their property dreams, financial institutions such as banks and non-banking finance companies offer two distinct loan options: home loans and home construction loans. Both these loan products extend considerable financial aid to individuals seeking to purchase a home.
However, it is essential to understand the key differences between these two loan types, as well as the notable characteristics, eligibility criteria, and loan classifications that should be taken into account. This informative piece addresses all of these questions and more.


Difference between Home Loan and Home Construction Loan
In today's times, attaining homeownership has become relatively simple. Regardless of the type of residence you desire to purchase, acquiring the necessary funds can be achieved through obtaining a home loan. Numerous banks and housing finance companies offer a range of home loan options.
Whether your preference lies in purchasing a ready-to-move-in apartment, an under-construction property, constructing a house on a plot of land, or renovating your existing home, you can discover the ideal home loan that suits your requirements.
However, many borrowers often find themselves perplexed when it comes to distinguishing between a home loan and a home construction loan. Despite their apparent similarities, there exist several differences that borrowers must carefully consider when selecting the appropriate type of home loan.
Distinguishing Features between Home Loans and Home Construction Loans
Documentation Requirements
When applying for a home loan, the documentation process is relatively simpler compared to that of a home construction loan.
Home Loan




Home Construction Loan




Applicants need to provide essential KYC documents, income proof, and property papers for verification.

In addition to KYC documents, income proof, and property papers for verification, applicants must submit additional paperwork.

These may include legal authorization for the plot from local authorities, approval from the municipal corporation, a blueprint of the proposed construction by an authorized architect or civil engineer, property tax papers, and more.
Maximum Loan Tenure
Loan tenure refers to the time given to repay the loan amount along with interest. A longer tenure means smaller monthly EMIs, while a shorter tenure requires larger EMIs, potentially limiting the available monthly budget.
| | |
| --- | --- |
| Home Loan | Home Construction Loan |
| The maximum repayment tenure for home loans is typically up to 30 years, allowing borrowers ample time to repay the loan amount. | The maximum repayment tenure for home construction loans is usually up to 30 years and the rest depends on the lender. |

Interest Rates
| | |
| --- | --- |
| Home Loan | Home Construction Loan |
| With numerous banks, NBFCs, and HFCs offering home loans, the interest rates are highly competitive. However, the rate charged depends significantly on the borrower's eligibility. A good credit history can result in lower interest rates for home loans. | Construction loans in comparison with home loans are available at slightly higher interest rates. |

Approved Loan Amount
| | |
| --- | --- |
| Home Loan | Home Construction Loan |
| When purchasing a property, borrowers can receive up to 70-80% of the property value as the loan amount. | Since the property is yet to be constructed, lenders offer up to 50% or 70% of the total estimated construction cost as the loan amount. |
Loan Sanction and Disbursement
| | |
| --- | --- |
| Home Loan | Home Construction Loan |
| Once approved, the sanctioned amount is transferred directly to the borrower's bank account. The entire loan amount is received in one installment. | The loan amount is disbursed in multiple installments. It typically takes three to five payments to receive the full amount. These installments are scheduled according to the different construction phases. |

Tax Benefits
Home Loan

Construction Loan


Home Loan offers option of tax saving to the borrower. The Interest and principal paid on home loan is eligible for deduction while computation tax liability. For first time borrower of home loan additional deduction of interest is also available to the extent prescribed under Income-tax Act, 1961.

Home loan availed as top-up for renovation / alteration of acquired house is also eligible for aforesaid tax benefit.




The tax benefits available in case of Construction loan is similar to home loan. However, in case of construction loan the benefit of interest paid during construction period is available to borrower in 5 equal instalments from the year of completion of such property.
Summing Up
There is no room for ambiguity when it comes to selecting the appropriate loan product, as each loan category serves distinct purposes. If your objective is to buy an already constructed property or entrust the construction process to a builder, a home loan is the suitable option. On the other hand, if you intend to personally undertake the construction, opting for a home construction loan is the right decision. Despite these disparities, the application, loan approval process, and repayment procedures are similar for both loan types.
Comments: