What Are the Advantages of Home Construction Loan?
24-Feb-2023 | Home Construction Loan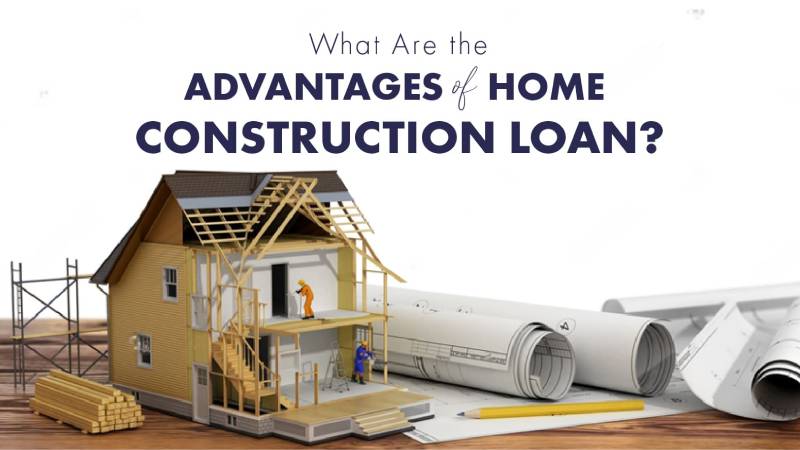 Building a house right from laying a solid foundation would surely be one of the most precious phases of a person's life as they live every moment of this journey. It gives them a chance to personalize the space as per their needs and preferences. However being a costly endeavor, it requires people to apply for a home construction loan.

Let's first understand what a construction loan is and how it works–
What is Home Construction Loan?
People applying for a home construction loan usually own a piece of land and for building their house, they need a good sum of money. To meet this requirement, they apply for a home construction loan.
Construction loans are disbursed in stages considering as and when the construction work progresses. Hence, the borrowers need to give the lenders a detailed construction plan, budget, and schedule to avail an easy home construction loan.
Benefits of Home Construction Loans
Home construction loans come with great benefits and advantages. Some of them are listed below
Ø Interest only on the disbursed amount
One of the most significant benefits of home construction loans is that the borrower needs to pay interest only on the amount that has been disbursed for construction work. They are not required to pay interest on the entire loan amount and thus can easily pay the EMIs for the money drawn.
Ø Build as per choice
In place of purchasing an already built, readymade house, home construction loans offer an opportunity for people to design and construct their dream home as per their choice, the way they need it. The construction material, design, infrastructure, color, etc. everything could be of their own choice. Therefore, home construction loans offer the freedom to live in a place designed as per their preferences.
Ø Open to Extension & Renovation
Another major factor that defines the advantages of home construction loans is that if in the future there is any requirement to renovate or to extend the place, then the borrowers can easily avail of a home improvement loan or home renovation loan and get the changes done as per their needs and comfort level.
Ø Tax Benefits
Borrowers can avail tax benefits on home construction loans after the construction gets completed and is only applicable on interest paid on the home construction loan.
Ø Asset Building
At the time of building a house, there is equity creation for the person in the form of an asset i.e. the home. It takes a span of years to build a house and have an asset for the future, constructing a house result in instant and rapid asset building.
Ø Guidelines to keep the work streamlined
When it comes to home construction loans, lenders need to check everything in a more detailed manner but it helps the borrowers in the long run as it ensures that the work is streamlined and about to complete as per the set schedule and budget.
Ø High Satisfaction Level
When a person builds their home, they achieve a sense of satisfaction and pleasure. People tend to experience a journey from keeping the founding stone to celebrating the housewarming ceremony. Thus, it offers a sense of belongingness.
Now you are aware of the benefits of home construction loans, here we are providing some tips on – how to get a home construction loan quickly.
Tips to get a home construction loan
Ø The first and foremost aspect for consideration is the credit score. The borrowers are advised to maintain a good credit score for easy approvals. The loan applicants should always know - What should be the ideal credit score to get a home loan?
Ø The land may be freehold or a plot allotted by Development Authority, including:
· Development Authority
· Freehold
· Nagar Palika
· Gram Panchayat
Ø Check eligibility before applying for a home construction loan. It is necessary for borrowers to know home loan eligibility as financial institutions always check the eligibility of the applicant before considering the loan application for approval. People can use the free online eligibility calculator to calculate home loan eligibility.
Ø The next thing borrowers need to do is to keep all the updated documents ready and handy. There must be a complete construction schedule ready as the applicants need to provide these documents to the lenders so that they can analyze whether the property is eligible for a home construction loan or not.
Ø The next tip for the borrowers is to always keep some room for additional expenses or the extra cost. While the construction work is in progress, there might be some unforeseen costs that take place for designing, raw materials, furnishings, etc. Thus, to save from hurdles, the borrowers should keep additional money for miscellaneous expenses to manage such challenges.
Endnote
Home construction loans provide resources to build an ideal living space. People can avail an online home construction loan to make the home loan process smoother and faster. As we have discussed, there are numerous benefits of home construction loans, borrowers can either visit the nearest branch to take a home construction loan or can online apply for a home construction loan for quick results.
Comments: