6 Tips to Increase Your Home Loan Eligibility
29-Jun-2021 | Home Loan Eligibility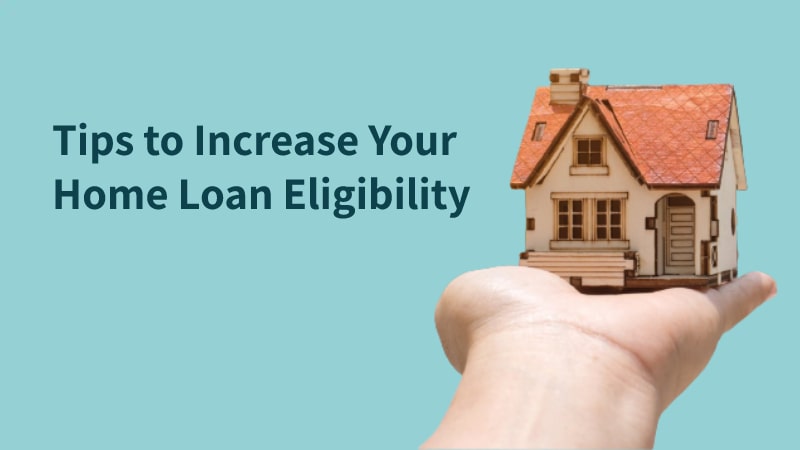 'Buying a home for your family' that's what going at the back of your mind? If yes, then this article is a must-read for you.
Buying a dream home is always a crucial decision of an Individuals life. One needs to do a lot of arrangements & adjustments in their budget & financials. Most of the time, It may happen that your dream home budget goes out of your pocket. It's the situation when you have to make a decision, either to drop your plan or opt to apply for a home loan and make your dream come true.
Before you apply for a home loan, it is advisable to check your home loan eligibility, so that you have a clear picture of your eligibility.
When you apply for a home loan, the lender would assess your credibility to repay the loan amount within an agreed time frame based on the home loan eligibility criteria.
Home Loan eligibility is defined as the maximum loan amount that you can expect to get, based on certain criteria such as your current source of income, repayment capacity, age, credit score, and many others.
In this article, we will walk you through 6 vital steps that help you to increase your home loan eligibility without having any trouble.
Clear Out All Existing Loans
All your existing unclear loans would negatively impact your home loan eligibility criteria. The previous loan dues would majorly hit your home loan eligibility. A lender would always consider your outstanding dues before sanctioning your home loan.
Before seeking for a home loan, make sure that you have cleared and closed your entire existing loans, collected no-due certificate and get it updated in your CIBIL credit score.
Extend Your Home Loan Tenure
Your home loan eligibility criteria are determined by your repayment ability of loan amount every month which is what we called as equated monthly installments (EMIs).
If you go with longer loan tenure, you would have to pay lower EMIs every month, which fits to all middle and lower middle-class applicants' to repay their loan amount and you are eligible for higher home loan amount to buy your dream home for your family.
But longer loan tenure means you would have to pay higher interest to the lender.
Don't get disappointed, there is a solution to this situation as well.
Considering that your income would increase every year, the option is to increase the EMI amount every year with an increase in your income. You just need to restrict your expenditure to some extent and you would pay off the home loan amount in a lesser time period.
You can even take help of an online home loan EMI calculator which is available on Aavas Financiers website for you to quickly calculate your EMI based on your tenure, interest rate & loan amount.
Keep your FOIR below 40 %
Fixed Obligation to Income Ratio (FOIR) is a critical parameter for determining your loan eligibility. It is defined as the part of your source income currently being used for loan repayment.
Higher the FOIR, lower the chances for loan eligibility. Therefore, try to limit your FOIR to up to 40% in order to increase the chances of loan approval.
You can lower your FOIR either by increasing your source of income or you have cleared out all your debts.
Lower FOIR means your liabilities are less which enhances your disposal income, thereby increasing your repaying capacity.
Make a strong credit report
The home loan lenders of any financial institution or banks consider your credit report to measure your repayment behavior and mark you as high-risk or a low-risk potential home loan applicant accordingly.

The CIBIL score is one of the significant factors while the lender approves your home loan. Your CIBIL score is a measure of your capability to repay the loan amount within an agreed time frame. Always maintain a credit score greater than 750 (out of 900) to increase your home loan eligibility and even helps you to avail lesser interest rate from the concerned loan provider.

Opt for a joint home loan for higher eligibility
Low income, low credit score and so on are common factors for the rejection of home loan applications by the lenders. You can increase your home loan eligibility by choosing joint home loan instead applying as an individual applicant.
A joint home loan means you need to consider a co-applicant who is your immediate family member (salaried or self-employed, Indian or NRI).
If your co-applicant is a woman then even better, as woman co-applicant enjoys a lower rate.
By this method, you would increase your eligibility loan amount to many folds because your co-applicants source of income is also considered by the lender in assessing your eligibility criteria. And other benefits as well such as tax benefits, share loan repayment amount and so on.
Additional Income Source
If you are failing to fulfill the home loan eligibility criteria, then you can even consider other income sources such as rental income, interest earned from fixed deposits or any bonus amount you have received from your employer or extra income earned as part of your freelancing work. All these sources of income would back you as well to enhance your home loan eligibility criteria for buying your dream home.
During the loan approval process, make sure that you have disclosed all the correct information in your application. Otherwise, you may face rejection in your home loan application.
Aavas Financiers Limited is a housing finance company helping many to fulfill dream of owning their dream home. Aavas Financiers Ltd has the vision to help majority of Indian population which belongs to low and middle-income by offering them home loans, plot purchase loan & construction loan, loan against property and balance transfer. You can take the help of home loan eligibility calculator or home loan EMI calculator to avoid Home Loan rejections.
Comments:
Jagdish Tulsani
on 13-Apr-2020
Good information
Raaju Buddha
on 21-Apr-2020
Owning a plot or home is the dream of every man. It also provides financial stability as well as emotional security. In India, there has been great demand for loans from the very start. Several companies that work under many banking sectors are helpful in providing faster approval of loans.
Ateet Sharma
on 09-Jul-2020
Purchasing a home is an important decision in an individual's life. Your information is quite helpful to those plannig to buy new house.
A good credit score can work in your favor for getting a loan. You give us excellent advice to increase the loan eligibility. Thanks for sharing this article.
Dr GTRAMAIAH
on 08-Nov-2020
Useful information
Rizwan Adil
on 09-Dec-2020
I always needed these kind of tips to sanction loan. I booked a land and I was abled to to buy it.